Building a Business Case: A Guide to MRO Value Solutions for Optimal Plant Performance

The Maintenance, Repair and Operating (MRO) Supply Chain is a critical component of plant reliability. Unlike production which consists of a finite set of well-defined and well-controlled materials, the MRO Supply Chain is comprised of thousands of materials with ever-changing demands and varying levels of control and complexity. Effective management of MRO materials in support of plant operations is an ongoing, never-ending process. The strain caused by the high level of transactions coupled with unplanned downtime and emergency repairs can result in the process becoming more reactive than proactive and more tactical than strategic. To mitigate this strain, a value solutions programme focused on the MRO Supply Chain is essential
What is a Value Solutions Programme?
Properly defining "value solutions" depends on the process, products or services under evaluation. If you ask 50 people to define value solutions you will get 50 different responses. Some examples:
"Seeking small improvements in process and products"
"Often referred to as Kaizen, is a small step-by-step incremental improvement in strategy"
"…an ongoing effort to improve products, services, or …. processes are constantly evaluated and improved in the light of their efficiency, effectiveness, and flexibility"
"A structured measurement driven process that continually reviews and improves performance with the objective of increasing quality and reducing waste"
Many times, the responses received exclude mention of cost reduction. While MRO supply chain costs often pale in comparison to production costs, maintaining control of costs is a critical component of a value solutions programme. A more comprehensive definition of an MRO-focused value solutions programme is thus:
"Defined programmes and processes focused on the MRO Supply Chain that improve plant reliability and reduce "
Why is Cost Important?
To understand the impact of cost, one only needs to refer to Moore's Law, introduced in 1965 by Gordon Moore, co-founder of Intel. Moore's Law which states that the number of transistors on a microchip doubles every two years while the cost is halved has been a benchmark in advancing technology to manufacture microchips and computers. For over five decades Moore's Law has delivered "lower costs, higher performance, and more reliable computing and networking"1.1 The mindset to reduce costs while improving performance is as strong, if not stronger, today as it was in 1965. Manufacturers focus on Plant Uptime and Overall Equipment Effectiveness (OEE) in efforts to continually increase their competitive advantage through improved plant reliability and performance while reducing manufacturing costs.
Source: "Moore's Law: Alive? Dead? Or resurrected?", Trends Magazine, May 2018
While clearly intended to define advances in the technology sector, Moore's Law is also applicable to the MRO supply chain. As shown in the following chart, the MRO Supply Chain impacts all areas of plant operations. An effective MRO programme ensures the right materials are available when and where required and at the right price. This supports the planning function that drives efficient use of resources which reduces the mean time to repair resulting in improved plant performance.
The question is therefore not whether there should be an MRO focused Value solutions programme but rather how best to implement such a programme. But first, ask yourself the following question:
Does your company embrace change?
Value solutions is change. Successful change requires change management. As you explore implementing a value solutions programme first ask how your company deals with change and if there is a defined approach to change management. Does the business structure and culture embrace change? Where is leadership on the issue? Are there existing processes in place that are well managed? Do employees recognise the need and embrace it?
The following table offers a roadmap to evaluate your company's acceptance to change. Gaining insight from multiple individuals in the different disciplines represented creates deeper understanding of the company culture. This type of preliminary work enables champions to identify and strengthen areas of weakness to better position value solutions initiatives for success.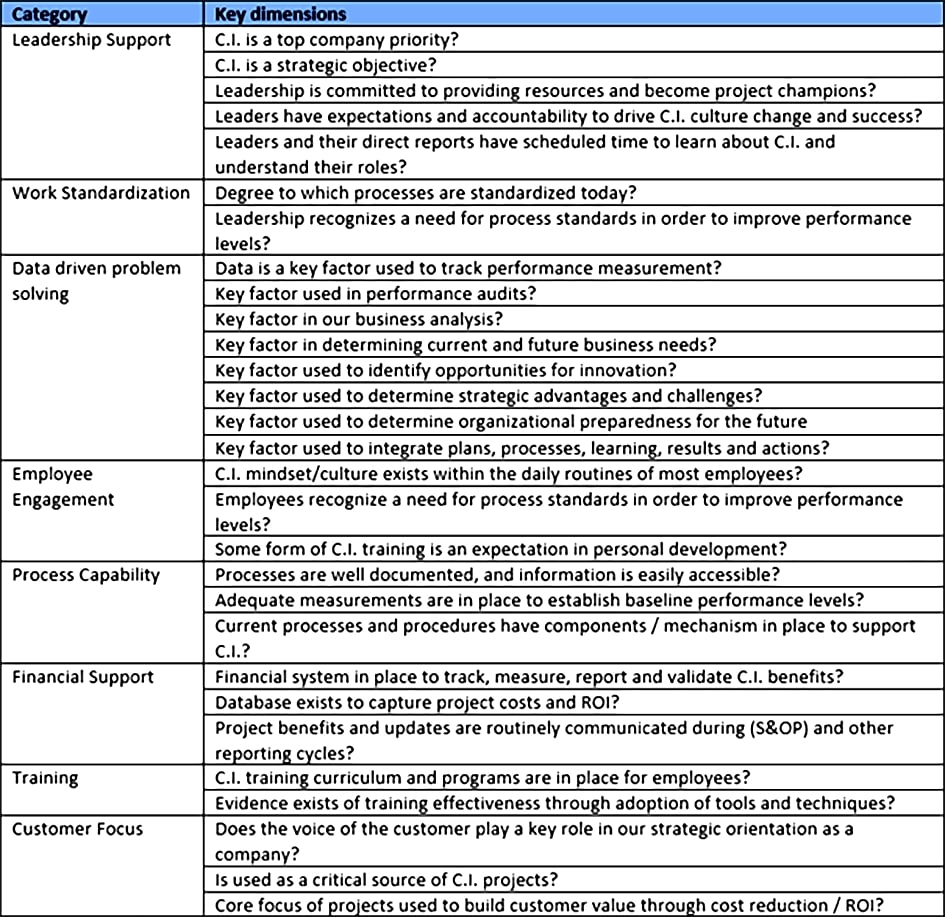 If your company embraces change, you are well positioned for a successful MRO value solutions programme.
Implementing MRO Value Solutions Initiatives
Before discussing implementing successful initiatives, it is important to understand what causes value solutions initiatives to fail. The most common are:
No clearly defined goals and objectives
Failure to benchmark and measure progress
Lack of administrative buy-in
Value solutions is analogous to problem solving. There are multiple methodologies to follow such as DMAIC (design, measure, analyse, implement and control) and Plan Do Check Act (PDCA). Regardless of the approach, the first step is to identify the problem you are trying to solve before trying to solve it. Understanding the strategy behind different initiatives keeps the focus on the proper objective, improving chances for success.
For any initiative, the following comprises the main steps.
Understand and identify the objective(s) (the problem to be solved)
Determine the approach
Design and implement the plan
Analyse results
Confirm the results and manage the programme to maintain or improve on those results
For the MRO supply chain, Process, Spare Parts, Equipment Performance and Reporting are key segments for value solutions initiatives. Within these segments are specific areas for which defined programmes can be developed and implemented.
Process:
Map your current processes to understand how labour is consumed

Wrench time
Receiving instructions
Travel time (to and from the storeroom)
Coordination delays
Authorised breaks
Map how material flows

Manufacturer to supplier
Supplier to plant
Plant to stocking locations such as storeroom, work area, POU, production floor
Spare Parts Management:
Maintain visibility of demand and material status
Keep inventory relevant to plant equipment, including understanding critical spares
Make parts available at the point-of-use
Align parts management with maintenance to complete work orders
Equipment Performance:
Analyse and track Mean Time Between Failures (MTBF) and Mean Time to Repair (MTTR) trends and prioritise reactions
Perform Failure Mode Effects Analysis (FMEA) to support recommendations for product or process modifications
Reporting:
Measure Overall Equipment Effectiveness (OEE) as the availability of equipment for production:

Output generated by the equipment and in operation and the quality of the product produced
Cost savings are used to measure the impact of I (Value Solutions) (Value Solutions). initiatives.
Measured as the percent of time equipment is available times the percent

Agree to methodology and template to demonstrate the value that I. activities deliver
Take-Away for Success: 
The following summarises two key factors for success.
Value solutions is an ongoing Constant and consistent evaluation of the process delivers stronger results over longer periods of time
Value Solutions is change and requires a Change Management Culture