MRO Supply Chain Best Practices: Finding and Sustaining Value

The Inverted-U Theory of MRO
In the workforce, there is a theory – the Inverted–U Theory or the Yerkes–Dodson Law – that deals with the amount of stress or pressure individuals need to be productive or successful.
Pressure, according to the theory, helps motivate individuals or teams, particularly early in a process or project. Stress, on the other hand, has negative consequences.
The middle ground – where pressure levels out and before stress creeps in – is the area or period where peak performance is attained, striking a balance between pressure and stress.
While typically referenced in evaluating individual and team performance, the inverted U theory also has application in the MRO supply chain. Think about it this way: the upslope of the inverted U could be considered the low-pressure side, where spare parts are abundant – overstocked, if you will. While working, the system is not as productive as it could be. Warning signs abound. Pressure – to perform better, more efficiently – is applied through strategic sourcing, critical spares management, parts consolidation, and other ways to improve stock levels and performance.
The downslope of the curve, or stressed area, is where spare parts, particularly critical spares, are lacking and production suffers. Parts are missing, maintenance is behind, lead times are long. There is downtime on the production line. Profits are lost.
Stress.
It is the area or time between the apex of the pressure and the increase of stress – the peak performance area – that every manufacturing site or large facility strives to reach and maintain.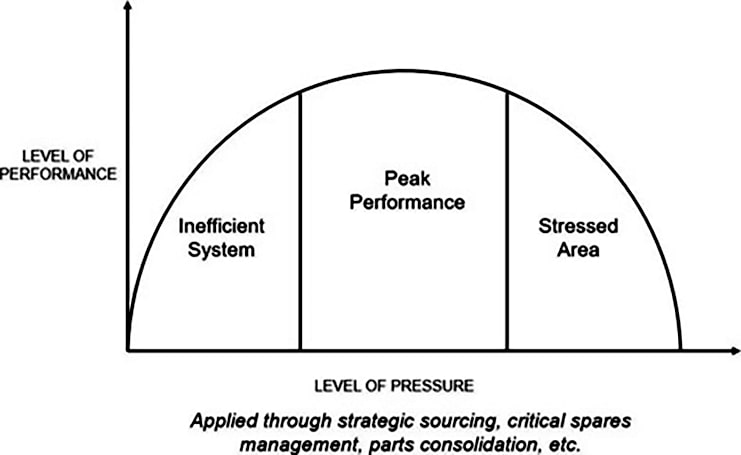 Defining the MRO Problem
Research shows the typical MRO spend is 6% – 10% of a site's overall spend. So, a site spending $50 million annually exhausts $3 million on MRO.
Yet, experience demonstrates that MRO accounts for 80% of a company's transactional costs – time and resources spent on purchase orders, invoicing, follow up, invoicing discrepancy resolution, dealing with vendors, requesting quotes, etc. That is 80% transactional costs for 6-10% of a company's overall spend. Managing the MRO supply chain is labour and time intensive. It is also sometimes thankless.
Due to the time drain, companies cannot develop a strategy on how to manage those parts and services, missing efficiency opportunities and process improvements. They are unable to find and sustain peak performance. Inventory is either too high or not high enough, particularly with critical spares.
Organisations react differently in seeking an MRO solution. Some focus on one or two elements, like piece price or p-card transactions. Some ignore it entirely, hoping it solves itself. Others are more strategic, willing to pass on short-term gains in favour of long-term benefits.
Typically, the solution comes down to two options: 1) keep it in house, managing the process with internal resources; 2) outsource to a third-party with established credentials in MRO management. Both options, when correctly implemented, can yield positive results. Sustaining those results and maintaining peak performance is where the two approaches diverge.
For internal management, maintaining consistency in parts ordering, pricing, stocking, tracking, etc. is a significant challenge.
For example, in a manufacturing environment when new equipment is introduced so too is a new list of required spare parts, maintenance plans and other elements. Too often, companies simply accept the manufacturer's recommendation to purchase bulk spare parts and other materials, further bulking up inventory levels. On the other hand, what happens to the previous equipment and the spare parts already purchased? In most cases, absolutely nothing. Parts remain in the storeroom waiting to be used. Over time, those parts become "lost" to the system.
"MRO accounts for 6-10% of a typical site's overall spend, and 80% of its transactional costs."
The role of an integrator, on the other hand, is to understand how decisions like purchasing new equipment impacts other elements of the MRO supply chain. It is this difference – the ability to recognise opportunities that drive savings or improve efficiency – that delivers value.
That value manifests in any number of ways, including piece price savings, lower inventory, more frequent turns, more wrench time for
maintenance staff, etc. The point being that an integrated supplier has the resources available to drive sustained value more so than most internal operation.
Here are three examples of how an integrator creates and sustains value:
Asset Liquidation
The first example involves a life sciences manufacturing company based on the East Coast of the United States. The company manufactures a range of medical treatment options, including pain medication and vaccines. One of its manufacturing plants was looking to consolidate equipment through disposal or other methods. The company's on-site integrator – a long-standing partner – developed a physical asset liquidation programme – an online auction – designed to return value for the used equipment.
The integrator's on-site team worked with the client in identifying 300-400 pieces of equipment – packaging equipment, kettles and tanks, filling equipment, inspection, and processing equipment – some of which had been out of service for decades. The integrator then catalogued the equipment, took pictures, and coordinated with the client to identify pieces eligible for inclusion in the sale.
The online auction was active for about a month, returning more than a quarter-million dollars in realised savings. The programme success is driving additional asset relocation programmes at the same site and others owned by the client.
Plant Shutdown Services
In another example, an integrator tapped its internal logistics arm to plan, execute and manage a scheduled plant shutdown for another life sciences client, this one in the Southwest U.S. The shutdown involved six production lines spread across 750,000- square feet and was planned as part of the company's regular maintenance schedule.
The integrator team built each part into the purchasing system of record, identified suppliers, and set up accounts and arranged credit to facilitate the ordering process. Once vendor selection was completed, purchase orders were sent, and confirmation received, including the ability of the different vendors – dozens in all – to meet the project timeline.
As materials arrived, the integrator executed its pre-defined kitting strategy, with each delivery recorded and tracked, offering the client real-time reporting on percentage of parts filled, location of those parts, etc. Utilising the integrators 15,000- square-foot fulfilment centre, items were placed in staging areas and labelled with critical details. As kits were finalised, they were delivered to the client's location and strategically placed for pickup by the on-site client maintenance team.
In year one of the project, with more than $1.23 million in parts processed – the integrator gave the client back two full days of production. Years 2-5 produced equivalent results.
Procurement Process Review
Sustaining value does not have to involve large volumes of parts or even significant expense. For a third client, a large manufacturer on the West Coast of the United States, a procurement-only arrangement quickly revealed a savings opportunity.
The storeroom itself was managed by the company's on-site union personnel, who were responsible for managing the inventory and establishing min/max order points. Traditionally, the storeroom attendant on duty would record on paper any items that needed to be purchased and share that information with procurement.
In one case, an order was received for 12 identical spare parts because existing stock fell below the required minimum, triggering a reorder. However, because of the integrator's expertise and technology, additional research revealed that those 12 pieces represented a 10-year supply for the client. It was an unnecessary request.
Further analysis of the company's purchasing data uncovered multiple examples of duplicate parts supplied by different manufacturers or having different brand names. In one case, duplicate elbow fittings were discovered listed under four different brand names. By communicating with the client and limiting the part to a single brand, the company reduced inventory and saved significant costs.
These types of peak performance initiatives helped the client realise a 30% reduction in inventory levels over three years, equating to $2 million in savings.
Conclusion
In each of these examples, and dozens more available, the integrator did not act alone. Client teams were heavily involved, adding tribal insight that an integrator may not recognise. It is exactly that kind of relationship and effort – the sharing of resources and information – that enables an integrator to bring sustained value to an integrated supply programme, keeping the MRO supply chain operating in the peak performance area on the Inverted-U.