Bridging the Gap between Maintenance and Procurement

It's no secret when it comes to the MRO integrated supply chain that the different departments involved – Finance, Maintenance, Engineering/Reliability, and Purchasing – have competing interests. While all of them are working toward the common goal of sustaining a profitable business, the different approaches sometimes cause stress.
The nexus for that stress is the MRO storeroom, where spare parts and other materials are received, stocked, issued, and tracked. It is also where many companies struggle when it comes to managing the MRO supply chain, and that is not a coincidence.
Research shows that 6% to 10% of a company's overall spend runs through the MRO storeroom. Meanwhile, those transactions – purchase orders, invoicing, follow up, invoicing discrepancy resolution, dealing with vendors, requesting quotes, etc. – account for up to 80% of a company's transactional activity. This means a lot of time is spent on an exceedingly small percentage of a company's expenses.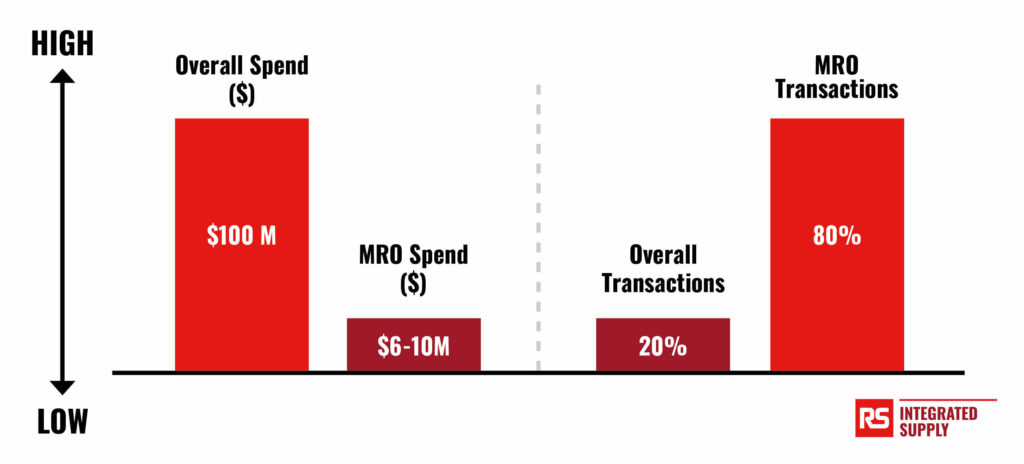 In a typical manufacturing environment, a company's MRO spend equates to about 6% to 10% of its overall spend. Meanwhile, MRO transactions account for about 80% of the company's overall transactions.
The math, while adding up, is certainly one sided
Problems: The Impact of Discrepancies and Turf Wars
When discrepancies or turf wars flare up between departments, it adds complexity to the workload. To ease that tension, it's important to understand the positions of the different departments, their goals, and the impact any decision may have.
Finance seeks less inventory at a lower cost
Maintenance wants to stock more spare parts to avoid downtime
Engineering seeks new equipment and parts needed to sustain plant reliability
Purchasing simply wants to pay less for the necessary spare parts
A decision in one department often ripples across the others. For example, purchasing decides to procure a less expensive part. That decision impacts maintenance, with the less expensive part being replaced more often. It could also impact production because of more frequent downtime, which means still higher maintenance costs. The same with Finance and its preference to have less inventory, which could result in more spot buys and expedited freight costs. Understanding the cause and effect' enable companies to work through the discrepancies between departments.
Solution: Bridging the Gap through Supply Chain Integration
Bridging that gap – particularly between Procurement and Maintenance – requires consistent communication. It's about building trust, particularly when a third-party integrated supply service provider is involved. The integrator acts as the bridge between procurement and maintenance, by talking technical with maintenance and pricing with procurement. Communicating parts requirements, sourcing requests, and additional information goes hand-in-hand with listening to client requests and understanding the factors driving them.
At one large chemical manufacturing plant in the U.S. Midwest, one integrated supplier is doing exactly that, bridging the communication gap between Maintenance and Procurement. Everything at the site, which is among the largest the global company owns, has a process requirement. From maintenance planning to work order management to purchase requisition and purchase order to approval requests, every step is clearly defined. Still, issues pop up.
The hand off from one element to another is often where those issues occur, for example:
Turning a purchase requisition into a purchase order.
CMMS (computerized maintenance management system) unable to tie a work order and a purchase order together.
Errors can occur when spending a million dollars or more in purchases each month. These errors can ripple across the entire MRO supply chain. Ripples can lead to work order delays, lower efficiency from maintenance and even downtime.
It's imperative the errors are caught early. The integrated service provider is responsible for catching those errors and communicating them, along with proposed solutions, to the client. Delivering additional savings along with the solutions is a win-win. However, building trust in your provider starts from the ground up. Identifying errors and introducing solutions helps build that trust.
What is the best way to communicate?
That often depends on the individual site and personalities involved. For this chemical plant, it is monthly reporting calls with plant management, procurement, operations and maintenance all participating. These calls are rarely cancelled or rescheduled.
Once established, the calls filled a void, where little or no communication between departments existed except for dealing with specific issues as they occurred. Now, monthly meetings, led by the integrator, are used to review scorecards covering:
Safety
Program savings delivered (percent and dollar value)
Storeroom item counts
Inventory value
Critical spares availability
Fill rate
Cycle count accuracy
Repair savings and more
Effective Communication in Action: A Chemical Plant's Shutdown Project Example
In just one example of the value of communications, part of the chemical company's sprawling manufacturing campus – 100+ acres and multiple manufacturing plants – was planning a shutdown project to address planned maintenance and site improvements. The integrator started purchasing materials for the project in May, months before the scheduled shutdown in early October. It was a four-month lead time.
The long-lead time materials were ordered first with additional materials ordered beginning in June. By the end of July, more than $23 million in materials had been purchased, nearly an entire year's worth of spare parts for the site in just a couple of months.
While the integrator's procurement team worked feverishly to secure the necessary materials for the shutdown, the managers worked closely with the client team to identify trouble spots and share updates. Meeting twice a week during the process, time was spent coordinating the 30,000 plus purchase order lines, and color coordinating each step in the procurement process: green for those delivered, yellow for those on order, red for those parts that were unable to be ordered or required special attention.
Throughout the process it was the communication, between integrator and client, integrator and vendors, and within the integrator's team, that enabled the project to be done on schedule with more than six million parts ordered.
Those monthly reporting calls have continued with client and integrator discussing upcoming maintenance projects, ordering issues, savings earned, purchasing processes, KPI reporting, etc.
By example of the chemical manufacturing plant, it is evident that bridging the gap can be done. Such success is dependent on understanding existing constraints and working together to solve them. Communication drives that understanding.
Conclusion
Managing the MRO integrated supply chain can be a challenge due to the competing interests of different departments in a company, such as Finance, Maintenance, Engineering, Purchasing. However, by understanding the overall goal of each department and impacting decisions, companies can ease tensions and work through discrepancies.
Supply Chain Integration is the key to bridging the gap between Procurement and Maintenance, but it requires consistent communication and fostering trust, particularly when a third-party integrated supply service provider is involved.