ESG AT RS INTEGRATED SUPPLY

OUR VISION
At RS Integrated Supply, our purpose is making amazing happen for a better world. To accomplish that we are focused on three core areas: People, Planet, and Profit. It's not just about achieving business success for us; it's about contributing to the betterment of society and the environment. To demonstrate our commitment, we launched our 2030 ESG action plan – For a Better World, in November 2021.
People: We firmly believe in the power of human potential and are committed to empowering our people. We aim to create an environment where our employees can thrive, grow, and contribute to our company's mission. We extend this focus to the communities in which we operate, striving to be an active part of their growth and development.
Planet: Sustainability is deeply ingrained in our values. We understand the importance of preserving the environment for future generations. That's why we are implementing practices that reduce our environmental footprint. Our commitment to advanced sustainability is reflected in our 2030 ESG action plan.
Profit: While we are a profit-driven organisation, we strongly believe in responsible and ethical business practices. Our goal is to generate profits without compromising our social and environmental responsibilities. We strive to do business responsibly, ensuring that our operations benefit not only our company but also our stakeholders and the wider society.
FOUR GOALS, ONE PURPOSE FOR A BETTER WORLD
For a Better World builds on four global goals and 15 ambitious actions for 2030. Our approach supports six of the United Nations Sustainable Development Goals (SDGs) and lays the foundation for our long-term vision to 2050.
Advanced Sustainability: Developing sustainable operations, and product and service solutions for customers and suppliers.
Championing Education: Supporting education initiatives through partnerships with educational institutions, providing learning opportunities for our employees, and supporting educational programs in the communities where we operate.
Empowering Our People: Investing in our people through professional development opportunities, a supportive work environment, and policies that promote diversity and inclusion.
Doing Business Responsibly: Upholding high standards of corporate governance and ethical standards throughout our business and global supply chain.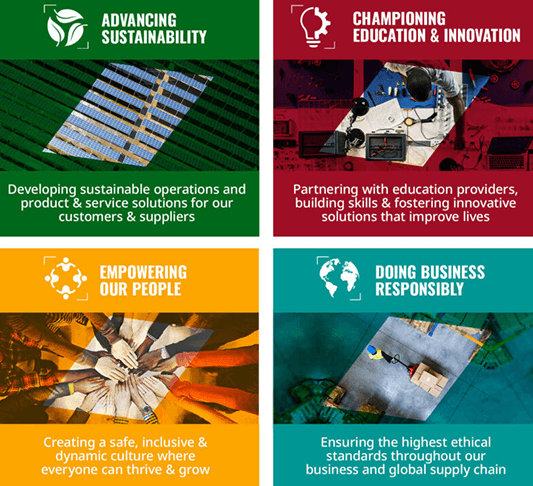 SIX UNITED NATIONS GOALS
At RS Integrated Supply, we are aligned to the United Nations Sustainable Development Goals (SDGs). Our efforts span a broad spectrum, encompassing everything from enabling education and innovation to addressing the pressing issue of climate change, and fostering a secure, inclusive environment that empowers our team members.
We have pinpointed the six UN SDGs where we make the biggest contribution. These include:

OUR ESG ACHIEVEMENTS IN FY23
In fiscal year 2023, we made significant strides in our commitment to our ESG initiatives, demonstrating a strong dedication to sustainable and responsible business practices. The following points highlight some of our key achievements:
Reduced Carbon emissions by 58% since 2019/20.
Launched 20,000 better world products in the UK and Ireland.
2920 tons of waste recycled.
Global education program serving 10 markets, 471,000 young people, and education across 400 institutions.
Reduced energy consumption by 12%, enough to power over 400 UK homes for a year
Raised £33,000 for the Washing Machine Project and helped improve 28,000 lives.
30% of our leaders are women and 11% are ethnically diverse.
78 point employment rating score.
42% reduction in accident frequency rate since 2019/2020
Over 18% of our people supported our communities and built new skills through volunteering in the last two years.
Received PLATINUM ECOVADIS rating for our strong ESG approach.
Launched ESG ACTION PLAN for our suppliers.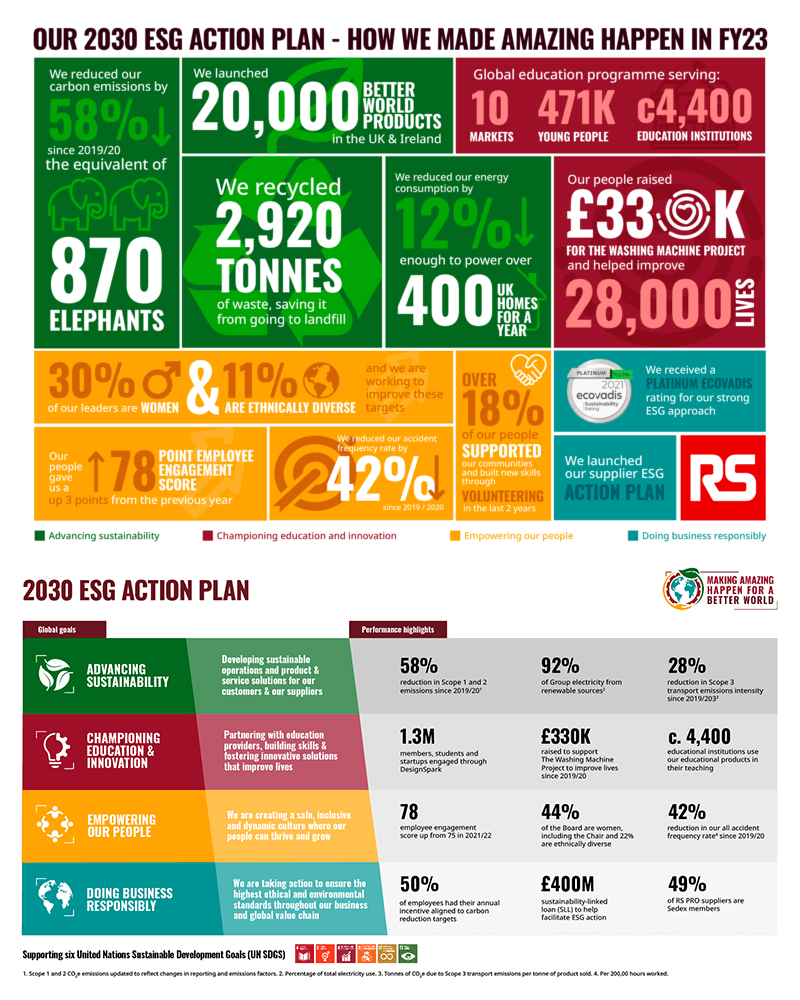 Supply Chain